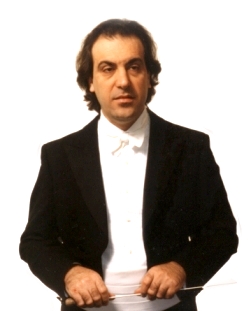 Maestro Giovanni Froio was born in Montauro (CZ) Italy; at the age of sixteen he moved to the United States and studied at the music conservatory Lowell University (Boston),where he received a degree in music composition and conducting. During his studies in Boston his compositions were performed throughout New England with Mr. Froio leading the orchestras as well as many ensembles of contemporary music.
On his return to Italy, he pursued further studies at the conservatories of music "G. Verdi" in Turin, "G. Verdi" in Milan and Santa Cecilia in Rome. A few years later he was granted a scholarship to attend the summer course of contemporary composition at the Academy Chigiana in Siena with FrancoDonatoni.
Maestro Froio is the founder and chief conductor of the Italian Chamber Orchestra and the Catanzaro Symphony Orchestra. In 1994 the Italian Chamber Orchestra led by Maestro Froio toured North America performing in Toronto, Boston, Worcester, New York, Philadelphia, Baltimore and Washington D.C.. In 1995 the orchestra was invited by the Ministry of Culture to perform in Antibes(France) at the Palais de Congres. In 1996 the orchestra went on its second tour of North America and performed at New Jersey's Montclair State University and Worcester. In 1999 the orchestra toured North America for a third time and played in Worcester, Boston and Chicago.
All concerts on all three tours conducted by Froio were punctuated with standing ovations as well as heart felt reviews by the international press: The Washington Post,The Boston Globe, Worcester Telegram&gazzette, Corriere Canadese, America Oggi and Antibes-Juan-Les Pins-Nice Matin. The concert held in New York City in 1996 was recorded by RAI International and transmitted world wide.
Maestro Froio is regularly invited to conduct the most prestigious orchestras throughout Italy and Europe Iasy Symphony Orchestra-Rumenia,Orquesta Sinfonica del Estado de Mexico, Orchestra Panstwowy Zespol Szhol Muzycznych-Poland, ecc. He has made many recordings for the FG label. His repertoire includes operatic, symphonic and ballet music and ranges from baroque to avant-garde. Maestro Froio is the chairman of music composition at the conservatory of Vibo Valentia.